Step 1: Learn and practice organizing skills
In the first step of the Change Corps program, you'll take part in an intensive classroom and field training where you will learn and practice the organizing skills you'll need for the rest of your career.
The organizers who launched Change Corps understood that new activists need a place to start, to learn how to make their mark.
That's why we bring in trainers from across the country, covering a wide range of issues, to teach you how to organize, run a campaign and win change. You'll learn skills from nonprofit group leaders like Cecile Richards of Planned Parenthood and Bill McKibben of 350.org.
You'll learn about the tactics used to win change on issues such as marriage equality, where a small number of activists raised awareness and organized grassroots support. They kept pushing and persuading decision-makers to stop obstructing change and start embracing it. Now, equality is the law of the land. That's what we need to do on other issues if we want to see more real progress in our country.
To get a sense of additional trainers and topics we cover, here's a sampling of sessions from our Summer 2017 training program.
Overview: Making a Difference
Trainer: Anne Ditzler, Board Member, Change Corps
Profile of an Organization: Organizing for Action
Trainer: Jennifer Warner, National Organizing Director, Organizing for Action
Overview: Power, Outside Game, Inside Game, Money
Trainer: Anne Ditzler, Board Member, Change Corps
Skill: Recruitment
Trainer: Manny Rin, Director, Change Corps
Overview: Legislative Process
Trainer: Andy Kang, Legal Director, Asian Americans Advancing Justice
Issue Overview: Antibiotics
Trainer: Dr. Sameer Patel, Director of the Antimicrobial Stewardship Program at the Ann & Robert H. Lurie Children's Hospital of Chicago
Skill: Publicity
Trainer: Marvin Randolph, President & CEO, Southern Elections Fund
Campaign Action: Petitioning
Trainer: Ivana Bejaran, Assistant Director, Change Corps
Skill: Writing for Causes
Trainer: Marites Velasquez, Projects Manager, Creative Team for The Public Interest Network
Skill: Recruiting Coalition Partners
Trainer: Sarah Jaynes, Executive Director, Progress Alliance of Washington
Profile of an Organization: Color of Change
Trainer: Arisha Hatch, Managing Director of Campaigns, Color Of Change
Skill: Fundraising
Trainer: Margie Alt, Executive Director, Environment America
Skill: Entering the Community
Trainer: Ashley Pinedo-Carlson, Board Member, Change Corps
Skill: Public Speaking
Trainer: Sam Landenwitsch, Acting Senior Vice President, The Public Interest Network
Profile of an Organization: Mi Familia Vota
Trainer: Ben Monterroso, Executive Director, Mi Familia Vota
Issue: Global Warming
Trainer: Gregg Small, Executive Director, Climate Solutions
---
Guest Trainers
Change Corps draws from a deep well of talented and experienced organizers and trainers, including leaders at ProgressNow, Planned Parenthood, SEIU and other partners.
In the past, our guest trainers have included: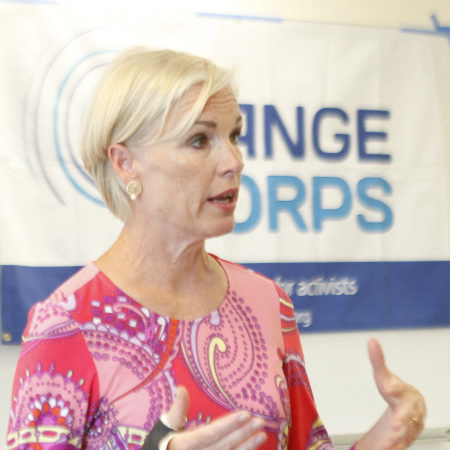 Photo: Dani Neuharth-Keusch
Cecile Richards
President, Planned Parenthood
Cecile Richards is the president of Planned Parenthood Federation of America and Planned Parenthood Action Fund. She is a nationally-respected leader in the field of women's health and reproductive rights, and, as president of Planned Parenthood, leads a movement that has worked for nearly 100 years to build a safer and healthier world for women and teens.
Photo: B. Mark Schmerling
Bill McKibben
Senior Advisor & Co-Founder, 350.org
Bill McKibben is a founder of the grassroots climate campaign 350.org and the Schumann Distinguished Professor in Residence at Middlebury College in Vermont. He is a 2014 recipient of the Right Livelihood Prize, sometimes called the 'alternative Nobel.' He has written a dozen books about the environment, including his first, The End of Nature, published 25 years ago, and his most recent, Oil and Honey.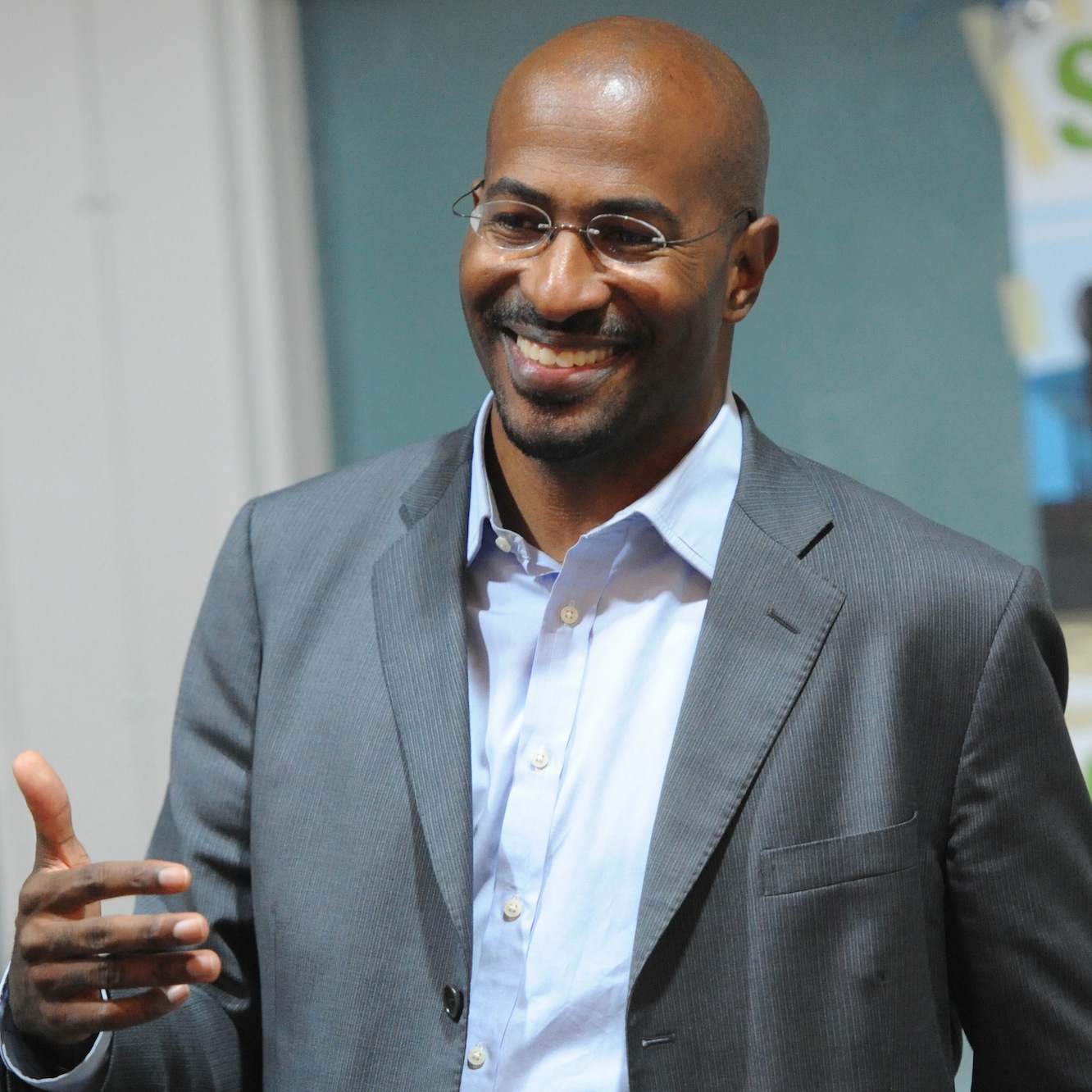 Photo: Susana Bates
Van Jones
Author and CNN contributor
Van Jones is a CNN political contributor, regularly appearing across the network's programming and special political coverage. Jones has founded and led five nonprofit organizations engaged in social and environmental justice. These include: The Ella Baker Center for Human Rights, Color of Change, Green for All, Rebuild The Dream and Dream Corps Unlimited. He is the author of two New York Times best-selling books, The Green Collar Economy and Rebuild the Dream. In 2009, Van worked as the green jobs advisor to President Barack Obama.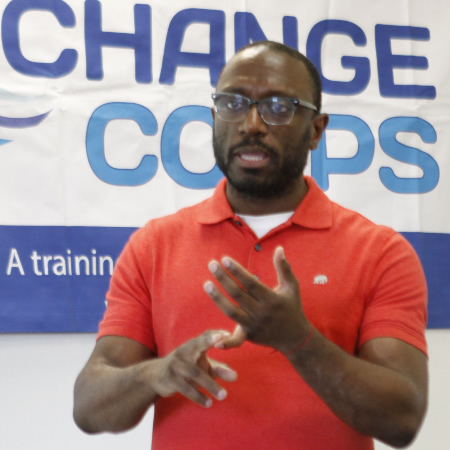 Photo: Dani Neuharth-Keusch
Michael Crawford
Digital and Creative Director, Freedom to Marry
Michael Crawford is the digital and creative director for Freedom to Marry, where he manages the organization's websites, email program, online fundraising and social media presence. He has a wide range of experience in political advocacy, new media and grassroots organizing. He was a leading strategist for the successful campaign to win marriage equality in Washington, D.C., and co-founded D.C. for Marriage.
And many others, including…
Kirk Adams, SEIU International Executive Vice President
Mia Moore, Democracy for America Chief of Staff
Naomi Roth, Massachusetts Organizing Director at Families for Excellent Schools
Amy Faulring, Grassroots Campaigns Director at MoveOn.org
John Rumpler, Senior Attorney for Environment America
Margie Alt, Environment America Executive Director
Jonathan Parker, Campaigns Director at Emily's List