Step 1: Learn and practice organizing skills
In the first step of the Change Corps program, you'll take part in an intensive classroom and field training where you will learn and practice the organizing skills you'll need for the rest of your career.
The organizers who launched Change Corps understood that new activists need a place to start, to learn how to make their mark.
That's why we bring in trainers from across the country, covering a wide range of issues, to teach you how to organize, run a campaign and win change. You'll learn skills from nonprofit group leaders like Cecile Richards, former president of Planned Parenthood, and Bill McKibben of 350.org.
You'll learn about the tactics used to win change on issues such as marriage equality, where a small number of activists raised awareness and organized grassroots support. They kept pushing and persuading decision-makers to stop obstructing change and start embracing it. Now, equality is the law of the land. That's what we need to do on other issues if we want to see more real progress in our country.
To get a sense of additional trainers and topics we cover, here's a sampling of sessions from our Summer 2018 training program.
Overview: What is Organizing
Trainer: David Rossini, ​Vice President and Director of State Offices​, The Public Interest Network
Issue Overview: New Voters Project
Trainer: Dan Xie, Political Director, Student PIRGs
Issue Overview: Voting Rights
Trainer: Marvin Randolph, President, Southern Elections Fund
Skill: Recruitment
Trainer: Marvin Randolph, President, Southern Elections Fund
Issue Overview: Clean Cars
Trainer: Garrett Garner-Wells, Director, Environment Colorado
Skill: Personal Recruitment
Trainer: Varsha Nair, Assistant Organizing Director, Change Corps
Issue Overview: Elections and the Environment
Trainer: Mary Rafferty, Executive Director, Virginia Conservation Network
Guest Speaker: David Simas, CEO, Obama Foundation
Skill: Fundraising
Trainer: Dan Xie, Political Director, Student PIRGs
Issue Overview: Nuclear
Trainer: Yasmeen Silva, U.S. Field Organizer, Beyond the Bomb
Skill: Recruiting Coalition Partners
Trainer: Donna Farvard, National Organizing Director, National Iranian American Council
Skill: Phone Calls
Trainer: Ivana Bejaran, Colorado Parent Organizer, Colorado Stand for Children
Issue Overview: Democracy
Trainer: Izzy Bronstein, National Grassroots Organizer, Common Cause
Skill: Public Speaking
Trainer: Pete Maysmith, Senior Vice President of Campaigns, League of Conservation Voters
Skill: Building an Effective Volunteer Group
Trainer: Varsha Nair, Assistant Organizing Director, Change Corps
Issue Overview: Reproductive Rights
Trainer: Arriana Belkin, Public Affairs Manager, Planned Parenthood of the Rocky Mountains
Skill: Working with Volunteers: Individual Meetings
Trainer: Margaret Kran-Annexstein, Campaign Director, Mighty Earth
Skill: Working with Volunteers Overview
Trainer: Manny Rin, Executive Director, Change Corps
Issue Overview: Education Reform
Trainer: Brian Tanner, Director of Government Affairs, Colorado Education Association
Organization Overview: ColorOfChange
Trainer: Arisha Hatch, Managing Director of Campaigns, ColorOfChange
Context: Legal Briefing
Trainer: Mike Landis, Litigation Director, The Public Interest Network
Organization Overview: New Era Colorado
Trainer: Charley Olena, Advocacy Director, New Era Colorado
Issue Overview: Right to Repair
Trainer: Nathan Proctor, New Economy Program, U.S. PIRG
Context: Perspectives on Organizing
Trainer: Cecile Richards
---
Guest Trainers
Change Corps draws from a deep well of talented and experienced organizers and trainers, including leaders at ProgressNow, Planned Parenthood, SEIU and other partners.
In the past, our guest trainers have included: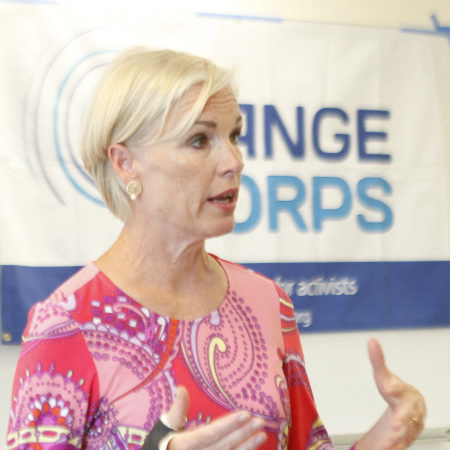 Photo: Dani Neuharth-Keusch
Cecile Richards
Former President, Planned Parenthood
Cecile Richards is the former president of Planned Parenthood Federation of America and Planned Parenthood Action Fund. She is a nationally-respected leader in the field of women's health and reproductive rights, and, as president of Planned Parenthood, lead a movement that has worked for nearly 100 years to build a safer and healthier world for women and teens.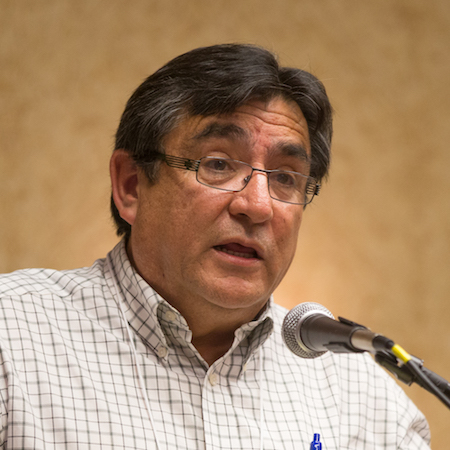 Photo: Eliott Foust, WeFoust Photo
Ben Monterosso
Executive Director, Mi Familia Vota
Ben Monterroso is a key champion and leader for many immigrants' rights campaigns, dating back to 1994 when he helped lead the fight against California Proposition 187, an extreme anti-immigrant ballot initiative that proposed stripping basic human and civil rights from immigrants. Under Ben's leadership, Mi Familia Vota Education Fund's voter registration, education and mobilization efforts made the organization a national leader in Latino civic engagement.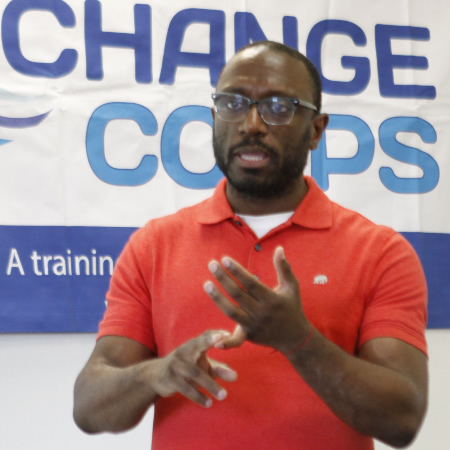 Photo: Dani Neuharth-Keusch
Michael Crawford
Digital and Creative Director, Freedom to Marry
Michael Crawford is the digital and creative director for Freedom to Marry, where he manages the organization's websites, email program, online fundraising and social media presence. He has a wide range of experience in political advocacy, new media and grassroots organizing. He was a leading strategist for the successful campaign to win marriage equality in Washington, D.C., and co-founded D.C. for Marriage.
And many others, including…
Kirk Adams, Executive Vice President, SEIU International
Mia Moore, Chief of Staff, Democracy for America
Amy Faulring, Grassroots Campaigns Director, MoveOn.org
John Rumpler, Senior Attorney, Environment America
Jonathan Parker, Campaigns Director at Emily's List
Betsy Markey, former U.S. Representative for Colorado's 4th congressional district and the former Assistant Secretary for Intergovernmental Affairs in the United States Department of Homeland Security
Arriana Belkin, Public Affairs Manager, Planned Parenthood of the Rocky Mountains
Arisha Hatch, Managing Director of Campaigns, ColorOfChanges