Nearly 50 years ago, Robert F. Kennedy spoke before an audience in a South Africa ruled and divided by apartheid, saying, "Each time you stand up for an ideal, or act to improve the lot of others, or strike out against injustice, you send forth a tiny ripple of hope, and crossing each other from a million different centers of energy and daring, those ripples build a current which can sweep down the mightiest walls of oppression and resistance."
Half a century later, his words still ring true. We need a million new centers of energy and daring. That's why we started Change Corps, the training academy for activists—to train you to organize them.
We're a group of experienced organizers who understand that new organizers need a place to start, learn and make their mark. We've been doing this for more than 20 years with Green Corps, the field school for environmental organizing, whose graduates now work at such groups as Sierra Club, Greenpeace, Environment America, Environmental Action and MoveOn.org.
Training serious activists
Change Corps offers a year-long, three-step program that will launch your career in social change. When Change Corps organizers complete their training, they'll know how to organize people on the issues they're passionate about and will have an opportunity to become part of a wave of new organizers who will keep pushing and prodding our country forward for years to come. Put simply, Change Corps graduates are ready to work for positive social change.
Things to know when you apply
Change Corps is part of the The Public Interest Network. We're a group of organizations working to address problems our society can't afford to ignore — from preserving irreplaceable resources like air, water and a livable climate; to transforming vast systems of transportation and energy that were designed to meet the needs of a different century; to growing and distributing food in ways that won't destroy the environment and threaten human health.
Throughout The Public Interest Network, we believe that a clear vision, commonsense ideas, a fact-driven case for action, and the power of bringing people together are the necessary ingredients to any successful effort to solve society's problems. We share a set of core values and a strategic approach to making positive change. Click here for things you should know about our network when you apply.
Staff leadership
Throughout the Change Corps program, you'll have opportunities to connect with key people in the social change movement, including our own staff and board of directors.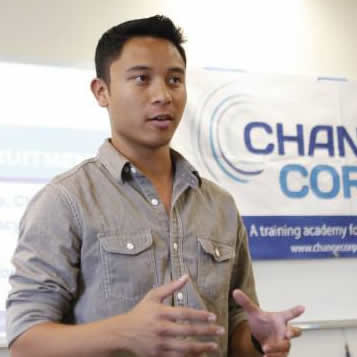 Photo: Dani Neuharth-Keusch
Manny Rin
Executive Director
Manny is the executive director of Change Corps. Manny got his start organizing in 2009 with the California Public Interest Research Group (CALPIRG). During his time with CALPIRG he recruited and trained hundreds of student activists on college campuses across the state, running projects that have registered thousands of students to vote and campaigns to protect California's air, water and environment.
He joined Change Corps in 2014 and has since led campaigns with MoveOn.org Political Action to get out the vote in swing states in 2014, Everytown for Gun Safety to pass gun safety legislation in Oregon, and Population Connection to defend women's rights. Manny has also managed Change Corps' recruitment efforts since 2015. Manny attended the University of California – Davis, where he studied Environmental Policy.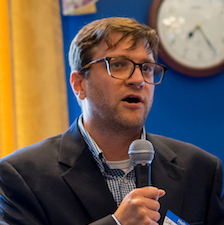 Photo: Johnathan Comer
David Rossini
President
David is the president and co-founder of Change Corps, as well as the Vice President & Director of State Offices for The Public Interest Network, where he oversees the staff and program work of The Public Interest Network's 20 state offices. David has trained hundreds of new organizers, helping to launch their careers in organizing. In 2012, he launched Fair Share's citizen outreach efforts, and helped run the field operation for The Public Interest Network's efforts to help re-elect President Obama.
A graduate of Vassar College, David lives in Denver with his wife and daughter, but still closely follows his beloved Boston sports teams.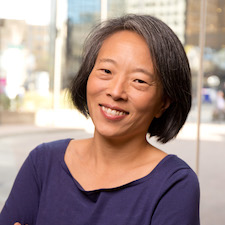 Photo: Kimball Nelson
Faye Park
Board Member
Faye is on the board for Change Corps, and also serves as the Chief of Staff for The Public Interest Network. Faye oversees the unglamorous but necessary work of preparing budgets, monitoring expenses, recruiting staff, managing their pay and benefits, and hundreds of other tasks that make all of our higher-profile work possible. Over the years, Faye has groomed a number of department directors into successful staff managers who recruit and oversee staff, pursue unique missions, develop and adhere to budgets, and develop analytics tools to evaluate performance. She lives in Denver, where she enjoys cooking, traveling, taking care of her family's chickens, and running, despite being "really slow."
---
---
If you are a monthly supporter of Change Corps and would like to update your credit card information, visit our Credit Card Update page.

Member questions or requests: 1-800-401-6511