Nearly 50 years ago, Robert F. Kennedy spoke before an audience in a South Africa ruled and divided by apartheid, saying, "Each time you stand up for an ideal, or act to improve the lot of others, or strike out against injustice, you send forth a tiny ripple of hope, and crossing each other from a million different centers of energy and daring, those ripples build a current which can sweep down the mightiest walls of oppression and resistance."
Half a century later, his words still ring true. We need a million new centers of energy and daring. That's why we started Change Corps, the training academy for activists—to train you to organize them.
That's where Change Corps comes in
We're a group of experienced organizers who understand that new organizers need a place to start, learn and make their mark. We've been doing this for more than 20 years with Green Corps, the field school for environmental organizing, whose graduates now work at such groups as Sierra Club, Greenpeace, Environment America, Environmental Action and MoveOn.org.
Training young activists
Change Corps offers a three-step training program to help you launch your career in social change. When Change Corps organizers complete their training, they'll know how to organize people on the issues they're passionate about and will have an opportunity to become part of a wave of new organizers who will keep pushing and prodding our country forward for years to come.
Change Corps in action
In June 2016, Change Corps hosted our first annual Changemaker Of The Year event, which honored progressive organizer and President of Planned Parenthood Action Fund, Cecile Richards. Guest speakers at the event included Change Corps Board President David Rossini, Sen. Al Franken, and Garrett Arwa, the National Political Director of For Our Future Fund. The event was a big success, raising critical funds to train the next class of Change Corps organizers.
Watch what Senator Franken and Cecile had to say about the importance of organizing and the work that Change Corps does today.
Change Corps - Changemaker of the Year Award Honoring Cecile Richards from Change Corps on Vimeo.
Video by Albert Myers
Things to know when you apply
Change Corps is part of the The Public Interest Network. We're a group of organizations working to address problems our society can't afford to ignore -- from preserving irreplaceable resources like air, water and a livable climate; to transforming vast systems of transportation and energy that were designed to meet the needs of a different century; to growing and distributing food in ways that won't destroy the environment and threaten human health.
Throughout The Public Interest Network, we believe that a clear vision, common-sense ideas, a fact-driven case for action, and the power of bringing people together are the necessary ingredients to any successful effort to solve society's problems. We share a set of core values and a strategic approach to making positive change. Click here for things you should know about our network when you apply.
Staff leadership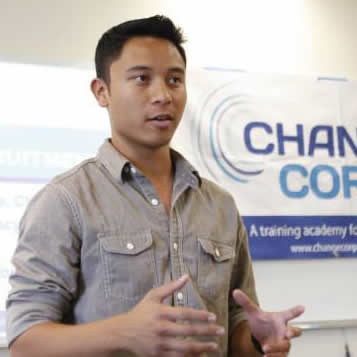 Photo: Dani Neuharth-Keusch
Manny Rin
Director
Manny got his start organizing in 2009 with the California Public Interest Research Group (CALPIRG). During his time with CALPIRG he recruited and trained hundreds of student activists on college campuses across the state, running projects that have registered thousands of students to vote and campaigns to protect California's air, water, and environment.
He joined Change Corps in 2014 and has since led campaigns with the Moveon Political Action to get out the vote in swing states in 2014, Everytown for Gun Safety to pass gun safety legislation in Oregon, and Population Connection to defend women's rights. Manny has also managed Change Corp's recruitment efforts since 2015.
Manny attended the University of California – Davis, where he studied Environmental Policy.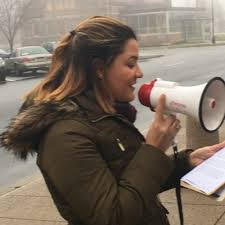 Photo: Staff
Ivana Bejaran
Assistant Director
Ivana Bejaran was born in New York and raised in the Dominican Republic. After finishing high school she went back to New York to get her degree in International Studies and Communications at Manhattanville College where for the summer of her Sophomore year she joined the Street Canvassing team for Environment New York as a canvasser and Field Manager. She also joined the Fair Share Colorado team in Fort Collins during the Mark Udall race. She returned to the Environment New York team after graduating to Assistant Direct the office right before Starting her Change Corps year ending this august where she got to work with Arizona State University students about raising awareness around the Global Gag rule and get support for the Global HER Act.
---
---
If you are a monthly supporter of Change Corps and would like to update your credit card information, visit our Credit Card Update page.

Member questions or requests: 1-800-401-6511